Them Clones (Delhi) -
20th February, Friday
Them Clones is a New Delhi-based pop-rock band. According to the band members, the name is a humorous and ironic interpretation of themselves. The band has successfully played over 200 shows across India, performing in across pubs, colleges and events across many cities. The first track released by them was "Black, White and Grey," following the 9/11 disaster, followed by "Wait for me," "Awaken" and "Zoopertrip," the last four, making it to an early EP released by the band on their own resources. Them Clones cites influences ranging from grunge, to metal, electronica, techno, international pop, and to Punjabi pop icons.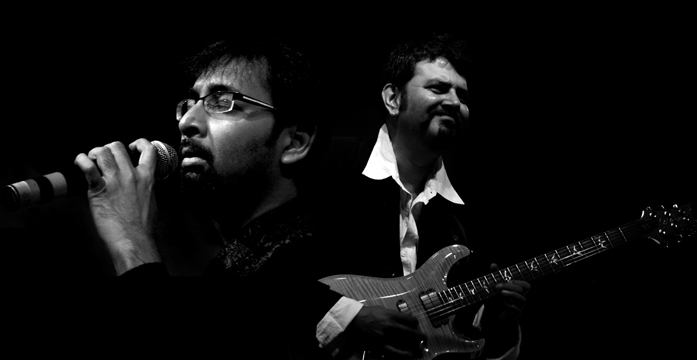 Agnee is a contemporary rock band, the reincarnated version of the old band 'Agni', with a completely new line-up (except for the guitarist) and new sound. Their debut album titled Agnee was launched 2007, and it is one of the first Indian rock bands to have seen a celebrated main stream release. As the name Agnee suggests, the trio are full of energy and life. It is a collective of three individual styles of composing and performing: Jazz-Rock influences, classic rock, pop and Indian influences and Carnatic and Hindustani classical influences. This gives the band a very wide experimental palette. The band, unlike the old 'Agni', sings in Hindi. Agnee's strength is in its performance skill and melodic content.Their album has been described as the perfect blend of contemporary musicians and traditional virtuosity.

Miles (Bangladesh) -
20th February, Friday
One of the oldest bands of Bangladesh, Miles started their music career by releasing the first self titled album in 1982. At that time Miles used to perform all the numbers in English, drawing from the influences of Latin Jazz, Blues, fusion and rock, and paying tribute to Led Zeppelin, Deep Purple and Jimi Hendrix. But what brought them reputation were their Bangla albums, which responded to the local ambience of the Bangladeshi arena and is now attempting to bring the vigour of contemporary Bangla music into the musical mainstream. Miles released their first Bangla album called "Protisruty" [Promise] in 1991. Says Hamin Ahmed,the vocalist, "At the end of the day, the album proved that rock can go with any language, provided you know what you are doing." But the language they speak is that of love, and they believe they have miles to go before they sleep.

During the Taliban regime, music was anathema to the ruling elite and pop music a taboo. In the post-Taliban period, forming music bands was an equally uphill task. Defying all odds, there emerged the Aryan Band, the first musical ensemble to venture out of post-Taliban Afghanistan to audiences thirsty for just any kind of music after an era where they could be punished if they were caught listening to a tape in their cars! These ten youngsters got together in the face of severe constraints — lack of funds, of a place to practice, and time for rehearsals. Drawing inspiration from Sufi singers and their country's folklore, the group specializes in Persian and Pashto numbers. Their music possesses an unmistakable folk air combined with an engagement with world music, using the clarinet, guitars drums, Latino percussions, bass, guitars and keyboards, and the congo.

Jasbir Jassi is a popular Bhangra singer. His musical journey started about 15 years ago, beginnning by recording for Punjabi films. Jassi is most influenced by Shaukat Ali Khan and Baba Kashmira Singh. Having played the harmonium and being trained in classical music as a child, Jassi believes that "Music is a Religion of Togetherness!" Having done more than 500 shows in over 70 countries across the world, Jassi is still waiting to give his best performance. He has also composed widely for films and has an extensive set of albums.

Since 1996, when the choristers were part of the Holy Family Convent, Bambalapitiya Senior Choir, Ms. Soundarie David has directed Soul Sounds for several scintillating performances at home and abroad. The premier, award-winning, all-female choir from Sri Lanka hit the marquee with winning a carol competition in 1996. They also sang for the 1997 Hollywood movie Mother Teresa-IN the Name of God's Poor. They shared the stage with stars like Cliff Richards, Bill Wyman of the Rolling Stones, Boy George, Chicago and others. The group sings for various functions and in its repertoire are classical and religious songs, ethnic music, semi-classical and pop. Their music is beautiful and well thought out, in embracing an audience of wide ranging tastes.

might sound like an unusual and distinct name, and it is. Translated from patli galli, it draws on from a stray desi phrase to lend to the band itself that quality of originality of which it is so distinctive. Skinny Alley is a band that is reputed for its diversity and skill, having released Escape The Roar' in 2003 and 'Songs From The Moony Boom' in 2007. The only Indian band operating with a lead female vocalist-lyricist, the band has played in diverse crowds ranging from college campuses to football stadia. The musicians of Skinny Alley are experienced, eclectic and versatile, spanning many decades and genres, bringing a nuanced variety and wealth of experience into the band's music. Unlike Bangla rock bands, Skinny Alley is also unique in taking the English language route and using a rich and diverse mixture of funk, jazz-rock, fusion, and reggae, progressive and alternative rock. Skinny Alley likes to think of themselves not just as a band, but as a Sound; with their lyrics being an outpouring from the experiences of everyday life in the city, as parents, and as performers, they are accessible as much to the teenager as the sixty year old.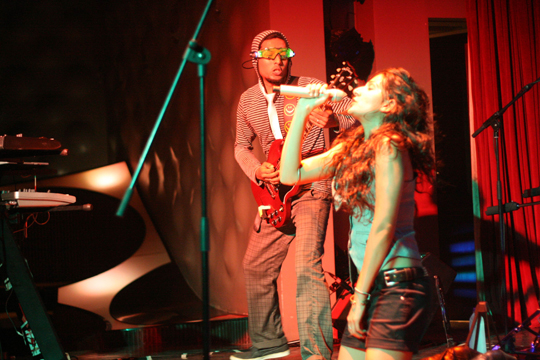 SHAA'IR means poet, in Urdu. FUNC comes from the word function; together they make, Shaa'ir and Func, the three year old duo with two album releases, 'New Day – The Love Album' 2007. 'Light Tribe' – 2008. Their distinctive rhythms are India's answer to world, electronica and dance music. Combining an electrifying stage presence with a profound, phenomenal sound, Shaa'ir from the New York City Broadway Stage background combines her vocals with great synergy with the rock guitarist Func of Indian rock band Pentagram. Rated as one of Vh1's top ten emerging artists out of India, their music speaks of peace and love, the breaking down of religious and cultural divisions, a conviction laced with bass-heavy rhythms, haunting synth melodies, a music built across genres charged with vigour and hailed as the music of the 'New India'.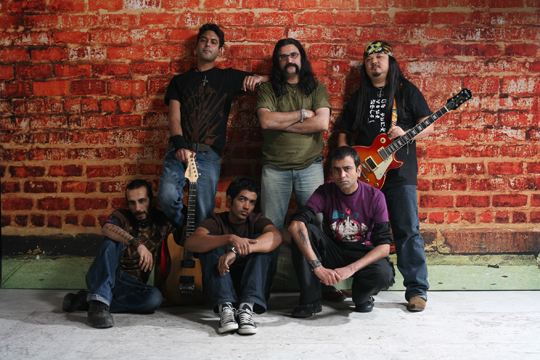 a name denoting the circle life, is a band that specializes in blues-based rock with a huge fan base all over the country. The band often fuses Indian classical music instruments like mridangam, tabla and flute with conventional instruments like guitar, drums and keyboards, while singing in Hindi. Disinterested in commercial success, their success is of a more radical nature. A wholly accessible band, they do not have any policies against their music being copied and distributed. Not many musicians would display such scant regard for copyright, but that's Delhi-based rock band Parikrama. Ranging from their first concert at New Delhi's concert on AIDS awareness to concerts on college campuses to opening for Iron Maiden, the band has performed traveled extensively and left sensational waves in its wake with over a 1000 shows. Unbridled by the pressures of commercialism, music remains their first love as they continue to sing and play with zest and passion.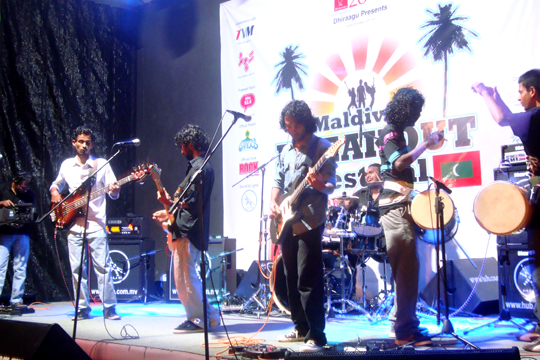 Trio believes in evolution. Evolution from a stagnant style of music that has little bearing to the Maldivian way of life to a more culturally inclusive fusion of true Maldivian music. They also believe in delving into the vernacular to find unique styles to identify Maldivian music with. Often Maldivian music is taken for granted and is considered as something that will develop on its own if left alone. But Trio, like many of the modern Maldivian bands, have taken on the task of defining Maldivian music with what can best be called a unique young Maldivian voice filled with island passion, vehement desire and resilient creativity. To Trio music isn't just a journey, it's an ongoing adventure where learning new things is the order of the day and where providing for the industry is their calling.

a talented band of young musicians who share a love for fusion and Indian music, was born in Mysore in 2002. Winning Radio City Live 2008 and signing up with Virgin Records was the first step up for these men from Mysore who recently released an album. The recipe of the band's music is to blend the tastes of each band member to produce a comprehensive mix of traditional as well as contemporary music. The band says its songs sing of subjects ranging from the power of youth, the local river Kaveri, and the frenetic pace of urban development. Bringing together the spirit of Indian rock, western and Carnatic music, the band has had opportunities to play with Parikrama, Usha Uthup and Sunidhi Chauhan.

Robin & the New Revolution (Nepal) -
22nd February, Sunday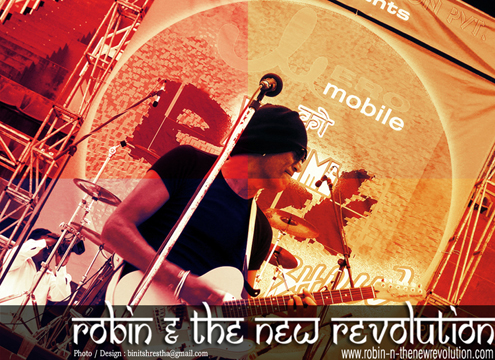 Robin and the New Revolution was a project begun by Robin of 'Robin N Looza' fame. With a desire of playing different styles of music, and with a couple of songs already under his belt, Robin recruited several experienced members for Robin & The New Revolution. The new members were definitely not new to the music scene, and the debut album Kta/Kt proved to be an enormous hit, blending down to earth words of elevating patriotism with a steady groove of funk, blues, slow rock and folk tunes, also grabbing some prestigious awards. Following up Kta/Kt, the band produced another acclaimed album – 13000, which was dedicated to the people who lost their lives during the political insurgency in the country.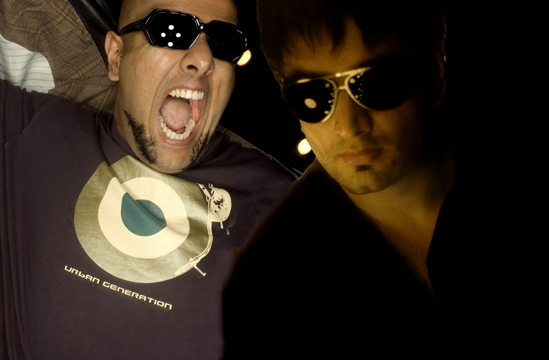 Vishal-Shekhar are a music directing duo who have made an indelible impact on the Bollywood musical landscape. Combining techno music with Indian sounds, the two artists each bring in their forte: Vishal as a rock artist in the Indian rock band Pentagram, and Shekhar as a trained classical singer with a sound base of Indian music. They have had a number of successes in Bollywood, including Jhankaar Beats, Om Shanti Om, Bluffmaster, Tashan, Bachna Ae Haseeno and Dostana .The duo exploded into the mainstream when they composed the score for the film Jhankaar Beats, which included the hit song tu aashiqui hai. Their efforts paid off when they won the Filmfare RD Burman Award for New Music Talent for Jhankaar Beats. Doubling up as music directors and playback singers, they even bring to their art their talent as lyricists. Even while the duo admits to coming together commercially, it is fun that brings them together to create the well-loved music of the energetic hybrid genre that is Bollywood music.